Tryavna is a town preferred by tourists for its clean mountain air and unique Renaissance architecture.
The guests of the town will enjoy their excursions to various villages and huts, scattered in the vicinity.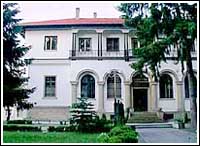 Tryavna is situated 400 meters above the sea level. A good road and railroad network connects the town with all farther spots of the country.
Feeling the beauty, with faith towards centuries-old traditions and love towards the Bulgarian Heritage, the Tryavna masters gain popularity in the field of building, woodcarving and icon painting, which they handle to perfection and transform into art. Thus comes into being, develops and flourishes the oldest Renaissance Art school in the Bulgarian land - the Tryavna school.
In Tryavna and the surrounding vicinity there are many places where one can find the unique beauty of the Renaissance period. Such are the architectural and historical ensembles The Old Square, P. R. Slaveikov street, Kachaunska neighbourhood and the place Tepavitsite, Skortsite village, the temples St. Archangel Michael and St. George, the unique museums - Daskalov's house, Raykov's house, Angel Kunchev's and P. R. Slaveikov's houses, Staroto Shkolo (the old school) and the Museum of Icon Painting and Wood-carving, art exhibitions of Dimitur and Nikola Kazakovi, Nikolai Maistorov and Ivan Kolev, the Gubenskies' collection of pictures.
---
Long is the story of Tryavna! But what the eye can see and the heart can feel surpasses all the story can tell.
Don't miss the chance to visit this reserve of the Bulgarian national spirit.
---
Error opening Database. Try again later.